2015-09-27(Sun)
Thank you for your visit to my table on last fair in Mariahoeve.
Hartelijke bedankt voor uw bezoek naar mijn tafel in Mariahoeve.
I have many new assortment,
I show them on this blog-site.
Here are "Memo holder"made by cartonnage technic.
The cover is hard enough for daily use at school
or at your shopping session.
The refil is available at "Action"chain in NL.
Of course you can choose your favorite note-pad of A6 size.
Ik heb een aanta"nieuwe assortment".
Ik zal beetje bij beetje aan u laten zien.
(Dus ik moet nog vaker schrijven, ,,)
Hier is "Memo houder"gemaakt met kartonnage tekniek.
Het is sterk genoeg voor dagelijkse gebruik op school,
of voor uw boodschappen.
Memo pad is verkrijgbaar in Action in NL.
of ook andere blaadjes van A6 maat.

(sold)
In the center, there is a pen-holder.
Also some more space for tickets, plaster etc..
Ook een lussje voor een pen.
En nog meer ruimte voor de kaartjes, pleister, etc..
(sold)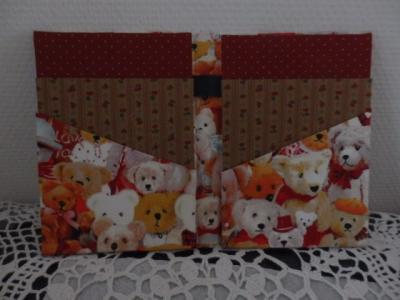 (sold)
スポンサーサイト