making process of telephone pouch
2016-04-19(Tue)
I'll be at Winkelcentrum Mariahoeve on
22 Apr
. 10-17.
Ik sta Winkelcentrum Mariahoeve op
22 apr.
10-17.
Note: Only Friday!
Let op: Alleen op vrijdag.
You can see here a part of my making process.
I'm cutting small leather parts.
It takes time... ja, really....
Hier kun je even mijn proces zien.
Ik snij de heel kleine tubs van verschillende leer.
Dit werk is niet makkelijk.
Making holes, glue together, making D-ring tubs...etc.
De gaatjes maken, lijmen, D-ringetjes tub maken...enz.

Patchwork process is interesting.
I combine strips in color gradation.
This work is done by sewing machine.
Patchwork proces is gewoon leuk!
Ik combineer de verschillende kleur strippen,
naai met naaimaschine.
I attach the parts for belt ( I don't know the name).
I put a kind of fleece to keep safe your phone against these metal bottons.
Dan zet ik een soort loesje? vast.
Ik heb ook fleece aan om je telefoon tegen deze metaal knoopjes te beschermen.

You can use it not only for your telephone, but also for you handy tissue, make-ups etc.
With this handle, you can hang it on your waist belt, or handbag.
Je kunt dit hoesje ook voor je zakdoekjes, of make-ups enz,
Met deze opening, kunt je het hoesje aan je riemband of aan je tas vastmaken.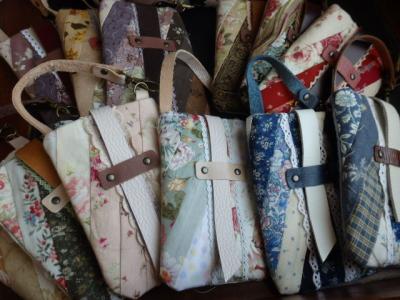 I made a lot....ja...too many...I think...
You can also order one for your own size.
Ik heb heel veel gemaakt... ja, best veel....hahaha...
Natuurlijk kun je op je gewenste maat bestellen.
Er zijn vreselijk maat variatie....van mobiel telefoon.
スポンサーサイト