New item! USB / lipbalm holder
2016-05-08(Sun)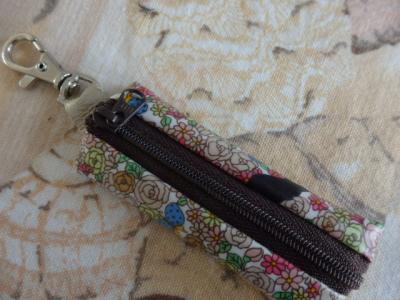 These are very small zipper pouches...
As you might know, the smaller is more (difficult) work...
At my fair, sometimes I heard that "small items should be small price".
But sorry, It's not so.
Ze zijn heel kleine housjes met rits sluiting.
De kleiner is minder makkelijker dan de grote te maken.
(Sommige mensen denken dat de kleine dingen moeten ook kleine prijsjes zijn. Maar helaas klopt het niet sorry!)

This is for coins, medicine, keys,lip balm USB sticks, etc..
You can attach your small items to your key holder or to your bag.
Dit kleine hoesje is voor je muntjes, medicijnen, sleutels, lippenstiftten, of voor USB enz.
Je kunt je kleine spullen in dit hoesje houden.
I choose the vinyl-coated cotton fabric.(made in Japan quality)
So, outside is partially waterproof. ( not zipper...)
Ik heb de geplasticeerde katoen stoffen van japans kwalieit gekozen.
Dus, is het meestal (maar niet op rits plek)tegen regen.

See you at my fair!
Tot mijn fair!
スポンサーサイト