Handy tissue cover model D
2016-05-12(Thu)
Handy pocket tissue cover model D is new assortment!
It looks the same as model C.
Yes, same size, but with one more extra pocket on the back.
Zakdoekhoesje model D is nieuwe assortment.
Het lijkt op model C, maar nog een extra ruimte op buitenkant.
Inside.
a tiny decoration with lace is pretty.
The back side of the tissue area, there is a space for your medicine, plaster, etc.
it's the same as model C.
Binnenkant
Een kleine accent met een stukje kant.
Achter het zakdoek , ie er een ruimte voor je medicijnen, pleister enz.
Het is dezelfde als model C.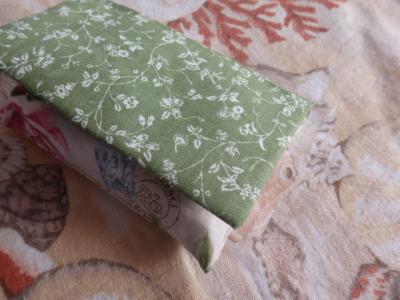 Flap.
It is also the same system.
Dekseltje.
niks bijzonder...
Backside.
Here you have an extra space.
Achterkant.
Hier is er een extra ruimte.
het is nieuw.
Can you see the space?
I made 20 pieces.
As you may know, never the same combination.
Ik heb ong.20 stukjes.
Alles anderes.
Now I have 4 soorts of handy pocket tissue cover in 4 price ranges.
From 2 euro's -3.50 euro's
Nu heb ik 4 zakdoekhoesjes model van 4 prijscategorie.
van 2 euro's tot met 3.50 euro's.
スポンサーサイト